Formed in 1992 as a collaboration of Cincinnati, Ohio's, Roger Bacon High School Band Alumni, Sound Body has received tremendous response to its eclectic combination of classic big band swing with contemporary jazz and fusion. The band's name, adapted from the high school's Latin motto, "Mens Sana en Corpore Sano" (A Sound Mind in a Sound Body), is quite appropriate, given the powerhouse ensemble work that is the trademark of the 18-piece group.
The jazz orchestra is an original American art form that combines the sheer joy and freedom of jazz rhythms with a rich and powerful orchestral sound. Following in the tradition of the famous jazz orchestras of the 1930s and 40s (commonly known as "big bands"), Sound Body plays an eclectic mix of styles – from classic swing to hard-driving Latin, to lush ballads. But what makes this ensemble unique is the addition of contemporary jazz and fusion tunes from the 1970s to today. The common thread of this broad repertoire: it's all great dance music!
The Sound Body Jazz Orchestra is a full 18-piece big band, including male and female vocalists. But for smaller venues that cannot accommodate the full group, we often use a smaller version of the orchestra that can perform the same playlist as the larger ensemble, using eight horns rather than thirteen and a three or four man rhythm section. For intimate jazz settings, our fine drummer, bass and keyboard players are joined by a tenor or alto sax player to form the Sound Body Jazz Quartet. This group plays a combination of jazz standards and contemporary jazz similar to the mix played by the orchestra.
This variety of groups allows Sound Body to provide an appropriate size and quality of ensemble for any occasion that requires a special musical flair. Sound Body plays a variety of events from outdoor concerts and festival events to all types of private parties.
2022 Performances
Feb 12/Sat     6:30-9:00 pm
Special Valentine's Day Event
OTR StillHouse, 2017 Branch Street  See Facebook Event
Mar 18/Sat    7:00-11:00
Casey & Jim Betz 50th Wedding Anniversary Party
Private Event
Apr 30/Sat     5:30-8:00pm
"Evening for Excellence" Dinner/Auction (private event)
Roger Bacon HS Fogerty Center, St. Bernard

July 6/Wed    7:00-9:00 pm
Clifton Cultural Arts Center Concert series
Burnet Woods Bandstand
July 13/Wed   7:00-9:00 pm
Greenhills Concert on the Commons
Winton Road & Farragut Road, Greenhills, OH
Sep 10/Sat   7:30-10:30pm
Kolping Society National Convention Dance Event
Private Event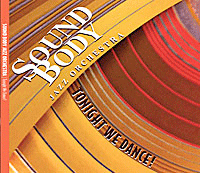 Own Sound Body Music!
The Sound Body Jazz Orchestra is pleased to announce the release of their 2012 full-length disk, "Tonight We Dance!", the band's third CD, following their initial 2004 effort, "That's The Way We Felt It", and their 2006 "Live At The Fraze" concert recording. Recorded at the Sound Workshop Studio in Florence Kentucky in March 2012, the 14 tunes on this album are a celebration of the band's 20 years of playing great American jazz-influenced popular music. The band likes to fancy itself as a cross between the Count Basie Orchestra (traditional big band swing) and the Brian Setzer Orchestra (contemporary jazz). This CD has great tunes from the books of both bands, as well as a wonderful variety of instrumental and vocal arrangements. The one common thread: It's all great dance music! And, it's only $12.00 ($2.50 shipping and handling)
Jumpin' East of Java (Brian Setzer)
Basie, Straight Ahead (Sammy Nestico)
Witchcraft (Cy Coleman, Carolyn Leigh)
September (Earth, Wind, & Fire)
Orange Colored Sky (Milton DeLugg & Willie Stein)
Beyond The Sea (Charles Trenet & Jack Lawrence)
Shiny Stockings (Count Basie Orchestra, Frank B. Foster)
I've Got the World on a String (Harold Arlen & Ted Koehler)
The Look of Love (Burt Bachrach & Hal David)
Route 66 (Bobby Troup)
Tourist in Paradise (The Rippingtons, Russ Freeman)
Poor Butterfly (Raymond Hubble)
I've Got You Under My Skin (Cole Porter)
Mack the Knife (Kurt Weill, Bertholt Brecht, & Marc Blitzstein)